An au pair is a young person who volunteers to care for a family in a foreign country, taking on childcare and mild housework responsibilities.
In exchange, the au pair receives accommodation, utilities, and food from the host family.
This cultural exchange role allows travelers to immerse themselves in a new environment while providing assistance to the host family.
In this article, let me guide you through the nitty gritty of becoming an UK Au Pair and also clear the fog about au pair and nanny roles.
Difference Between A Nanny And An Au Pair
While both au pairs and nannies are involved in childcare, their roles have distinct differences. A nanny's responsibilities can extend beyond childcare to other tasks expected by the employer.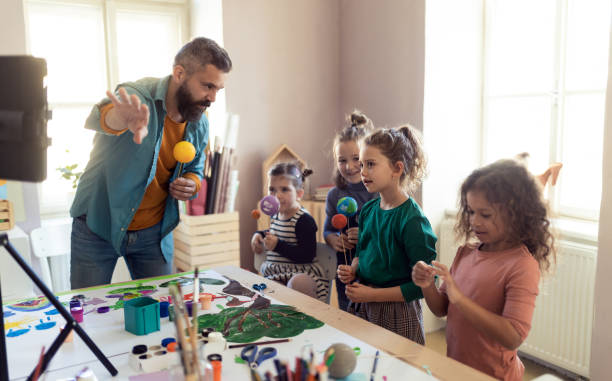 An au pair focuses solely on looking after the children while the parents are away, with their work hours ending when the parents return.
An au pair also engages in a cultural exchange within the foreign country. Moreover, an au pair's compensation is typically considered "pocket money," unlike a nanny's salary.
How To Become A Uk Au Pair
Becoming an au pair in the UK presents an exciting opportunity for adventure and cultural exchange. To start this journey, individuals need to meet certain qualifications and requirements.
The age bracket for an au pair is typically 18 to 30 years. While academic qualifications aren't strictly required, having a high school education is expected.
Additionally, applicants must have a clean criminal record, be fully vaccinated, and meet specific health criteria.
The au pair must not be on a UK visitor visa or have a UK visa expiring within 6 months.
Read Also: UK Visa and Relocation Expenses from Nigeria
What are the Au Pair Qualifications?
To become an au pair in the UK, one should be between 18 to 30 years of age, possess a clean criminal record, and meet health requirements. While there are no strict academic qualifications, having completed high school education is beneficial.
Some au pairs choose to get certified in childcare and teaching, which are relevant skills for the job. Additionally, the applicant must not smoke, have no recent psychological or psychiatric disorders, and be fully vaccinated.
Requirements to Become an UK Au Pair
While specific academic qualifications aren't essential, an au pair should be within the age range of 18 to 30 years and eligible for an au pair UK visa.
Being single without children or dependents is a requirement. Proficiency in the English language is crucial due to interacting with English-speaking children.
The applicant should afford travel expenses, have an emergency fund, and not hold a visitor visa or a UK visa expiring within 6 months.
The au pair must be willing to work in the UK for a maximum of 24 months.
Also Read:Canada's Tech Talent Program for Easy Migration
Average Salary of the UK Au Pair
Au pairs in the UK receive a weekly personal allowance from their host family, in addition to accommodation, food, and utilities.
The minimum allowance typically starts at £90 per week. While au pairs are not entitled to the National Minimum Wage or paid holidays, they might need to pay income tax and insurance.
The exact allowance can vary based on the needs of the host family and the arrangement.
Finding an UK Au Pair Jobs
Finding au pair jobs in the UK can be made easier by using platforms like Global Work and Travel.
This organization simplifies the process of becoming an au pair by assisting in finding the perfect host family and making necessary arrangements before arrival.
By browsing through different trip styles, choosing a destination, and initiating the application process, aspiring au pairs can start their journey with guidance from a personal Trip Coordinator.
Read Also:How to Migrate to the UK With the Healthcare Visa
Popular UK Au Pair Areas
With Global Work and Travel, there are opportunities for au pairing in various locations throughout the UK.
From major cities like London to smaller villages and towns, au pairs can choose their preferred setting.
The UK comprises territories like England, Scotland, Wales, and Northern Ireland.
Major cities like London offer diverse experiences, while other regions like Scotland provide unique cultural and natural landscapes for au pairs to explore.
Is Being A UK Au Pair a Great Choice?
Becoming an au pair in the UK offers a life-changing experience, allowing individuals to immerse themselves in childcare while exploring the rich culture and history of the country.
With the chance to take care of children, visit landmarks, and learn about British culture, this role presents an opportunity for those seeking both adventure and personal growth.
For travelers who want to avoid financial worries and enjoy their time in the UK, being an au pair is a rewarding option.
Quick Ruite Occupational Therapy Jobs in Canada
FAQs
What is an au pair?
An au pair is a young person who volunteers to provide childcare and some light household tasks for a host family in a foreign country in exchange for accommodation, food, and a stipend.
What's the difference between an au pair and a nanny?
While both care for children, nannies typically handle a broader range of household tasks. Au pairs focus primarily on childcare and engage in cultural exchange, whereas nannies may work longer hours and are often employees of the household.
Conclusion
To become an au pair in the UK, you must meet age requirements, have completed high school education, possess good health, and not have a criminal record.
You'll also need to secure an au pair visa and meet certain financial criteria.
To qualify as an au pair, you typically need to be between 18 and 30 years old, have a clean criminal record, be in good health, and meet language requirements.
Some families may also prefer au pairs with childcare or teaching certifications.